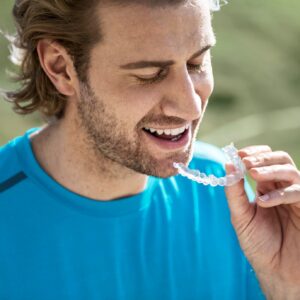 What is Invisalign?
Do you want a way to straighten your teeth without wires or braces?
Invisalign is the world most advanced clear aligner system, giving you results in as soon as 3 months. They are completely removable, and extremely comfortable to wear all day long. It won't affect your lifestyle, no matter how active you are.
You simply wear a clear plastic brace over your teeth, replacing it every 2 weeks until your teeth are in their final, projected position.
Using advanced software, your dentist will simulate how your teeth will look like during every stage of treatment, so you can see the changes for yourself!
Your dentist will make a mould of your teeth, and send it to Invisalign, who use the latest 3D scanning technology to create custom thermoplastic aligners!
The treatment may last from 8 to 14 months, depending on the severity of your situation, and appointments must be attended once every two weeks to replace your brace.
Why Invisalign and not normal braces?
Braces are traditionally very uncomfortable due to the sharp, tight metal wire and fitment on your teeth. Invisalign is simply a piece of thermoplastic moulded to your teeth, and sits around them. This advancement in technology means that the same effects as braces can be achieved, and yet, you do not have to be in any discomfort while doing so! You can also eat normally, as the design essentially means that you can remove them any time (for up to 2 hours a day), without having to go to an orthodontist. Less time is also spent at the dentist for small changes.
No ugly train tracks here! You get to keep the confidence of being able to smile like always and no-one will know you are wearing the Invisalign braces.
Invisalign also allows you to visualise the changes before you go for the changes
Are there any side effects?
Much like normal braces, you may have a lisp when you first have them fitted, however, most patients get used to them very fast and this issue remedies itself. Should you find yourself not getting used to the braces and still having a lisp, you can remove them for up to 2 hours a day to carry on with day to day activities such as important meetings.
Towards the start of each phase of treatment, you may feel slight discomfort due to the pressure the brace applies on the teeth into order to realign them, and this is quite normal, and is the only way teeth can be realigned. This is a positive sign the realigners are working well, and the feeling usually dissipates within a few days.
Don't just take our word for it – see the results for yourself